CTEC Registration for Culinary I and II, Cosmetology II, Automotive II, Electrical I and II, HVAC I and II, Carpentry I and II, Cybersecurity I and II, Medical Assistant I and II, and Drafting I and II opens on February 8th at 8am via the CTEC website! Visit our website or call us for more information about our programs.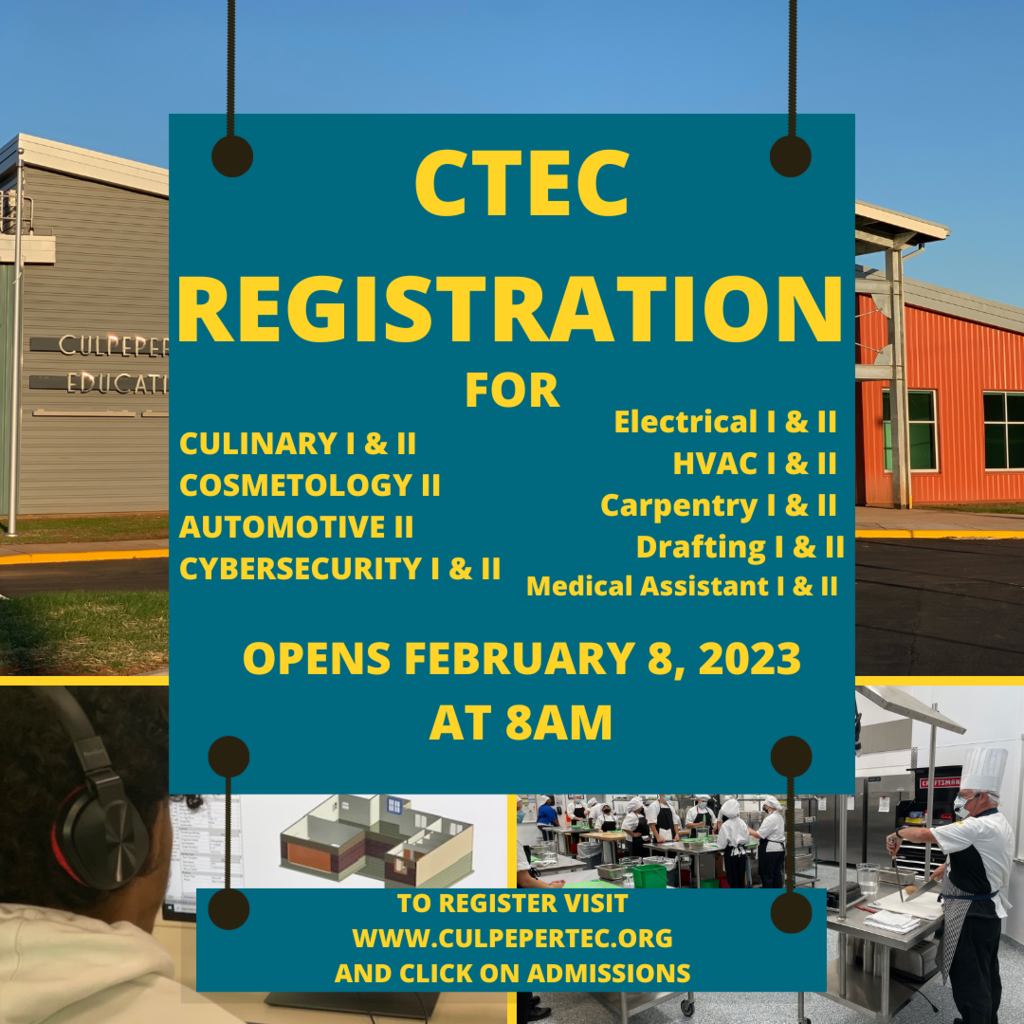 We have TWO fantastic opportunities available for members of our community to learn from our incredible CCPS CTE students! Feb 9 : Valentine's Day Flower arranging hosted by Eastern View High School FFA, and Feb 10 Valentine's Day cooking class hosted by students from CTEC's The Blaze Kitchen Culinary program. Each event is limited to the first 20 to register. Call 540-423-6504 to reserve your space!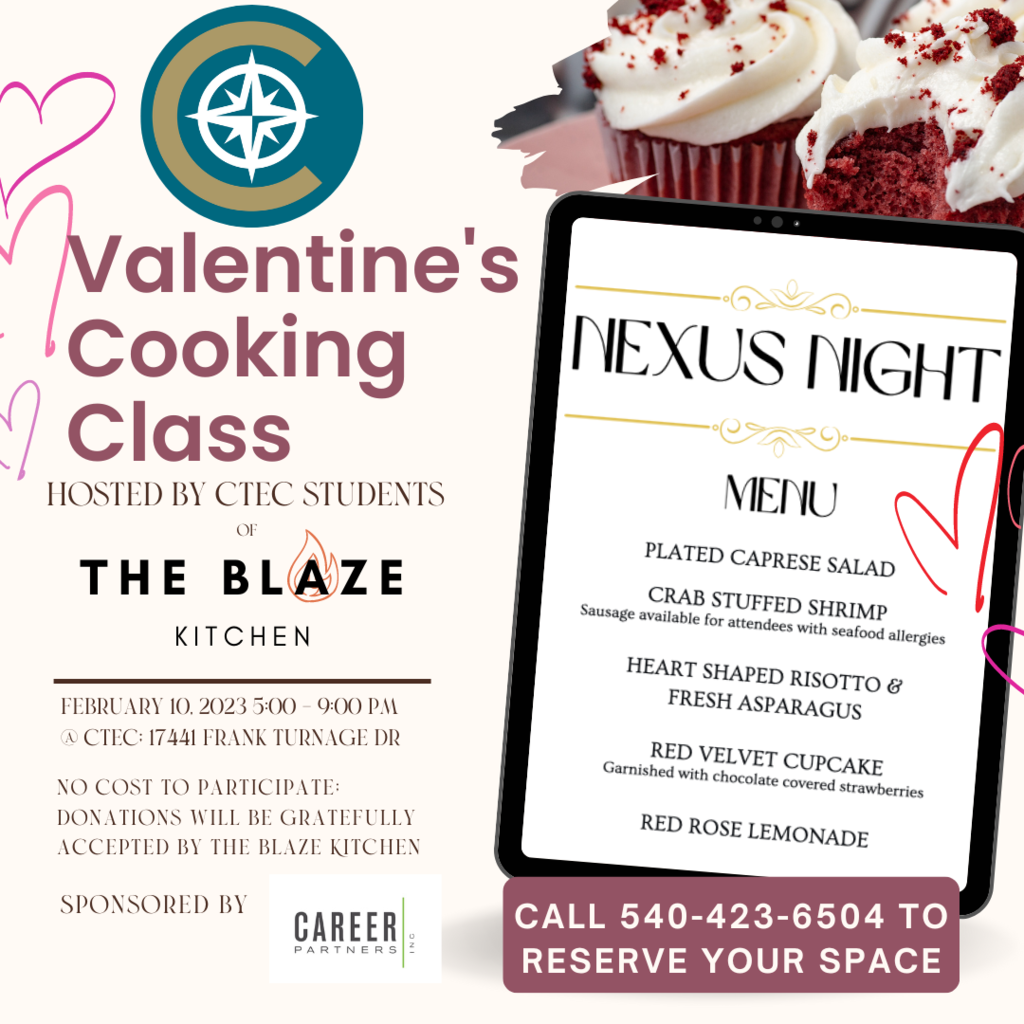 OPEN HOUSE - TONIGHT @ CTEC 5-7pm! Meet our skilled instructors, see our incredible facility and learn how CCPS rising Sophomores, Juniors, and Seniors can become CTEC Trailblazers and seize opportunity! #culpepertec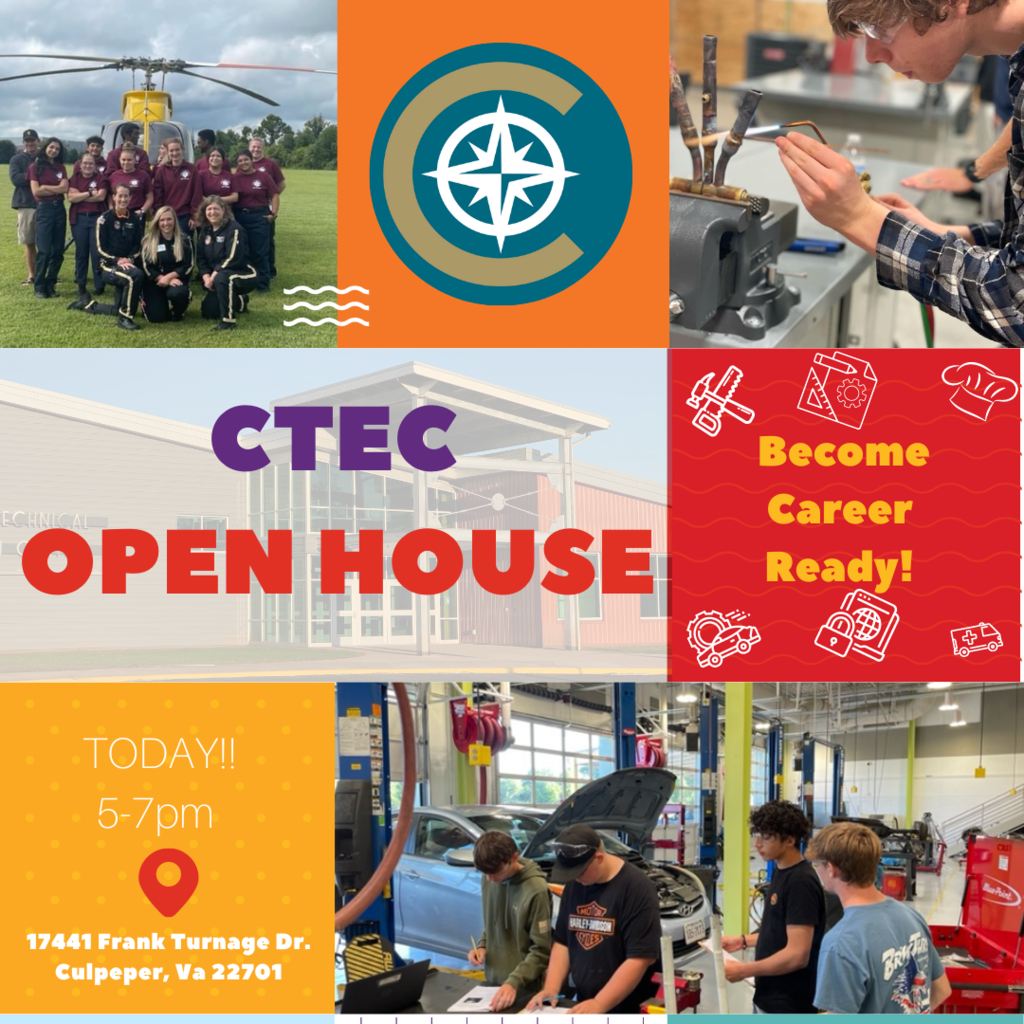 Applications open January 18, 2023 at 8am! If you are a rising Junior or Senior interested in becoming a part of the CTEC Automotive, Cosmetology, EMT, or Nursing programs you MUST apply via our website
www.culpepertec.org
. Visit our website or contact us at 540-423-6504 to learn more about our programs.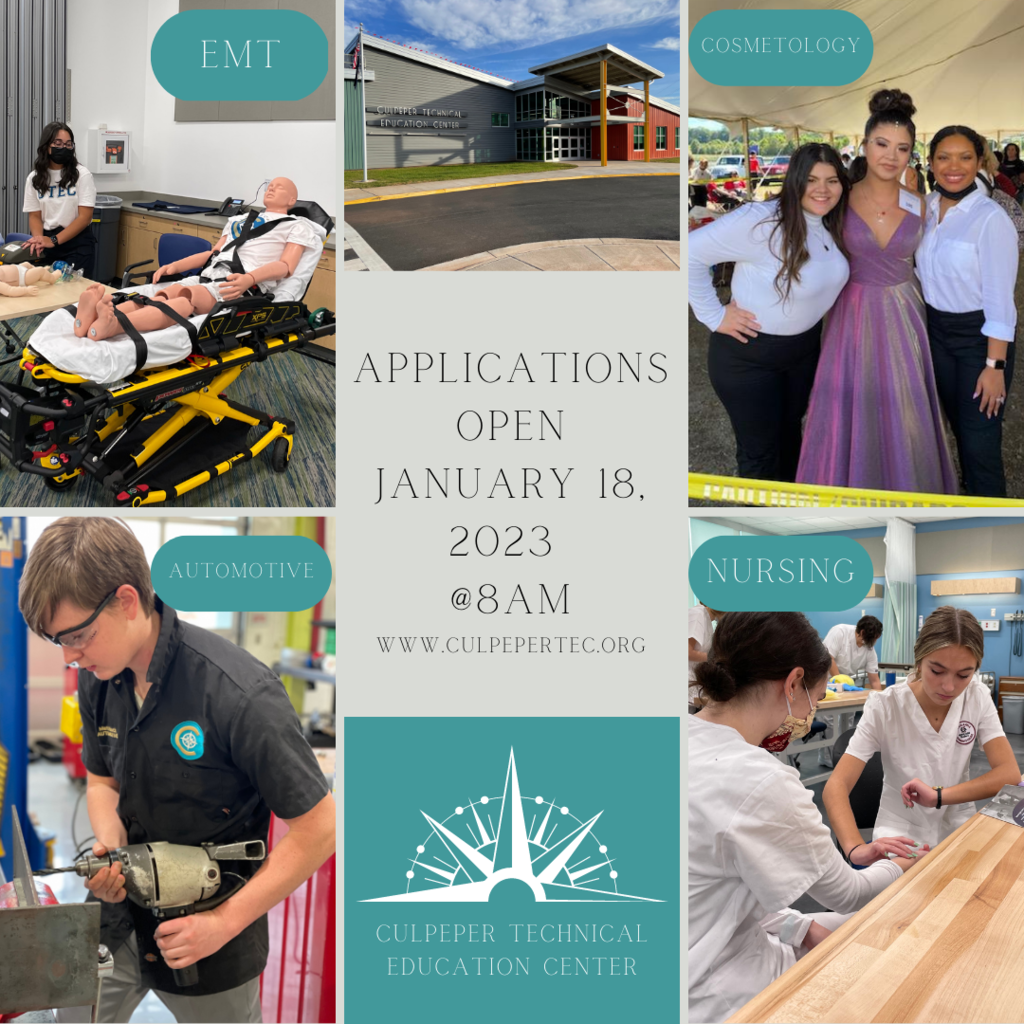 It's that time of year! We are gearing up for 23/24 school year registration/applications! To kick things off, we will be holding an open house at CTEC from 5-7pm on Tuesday, January 17th. Applications for EMT, HCT, Auto, and Cosmetology will open on January 18th via
www.culpepertec.org
. Registration for all other classes will on February 8th also on our website. Join us on the 17th for a chance to learn more about what CTEC has to offer!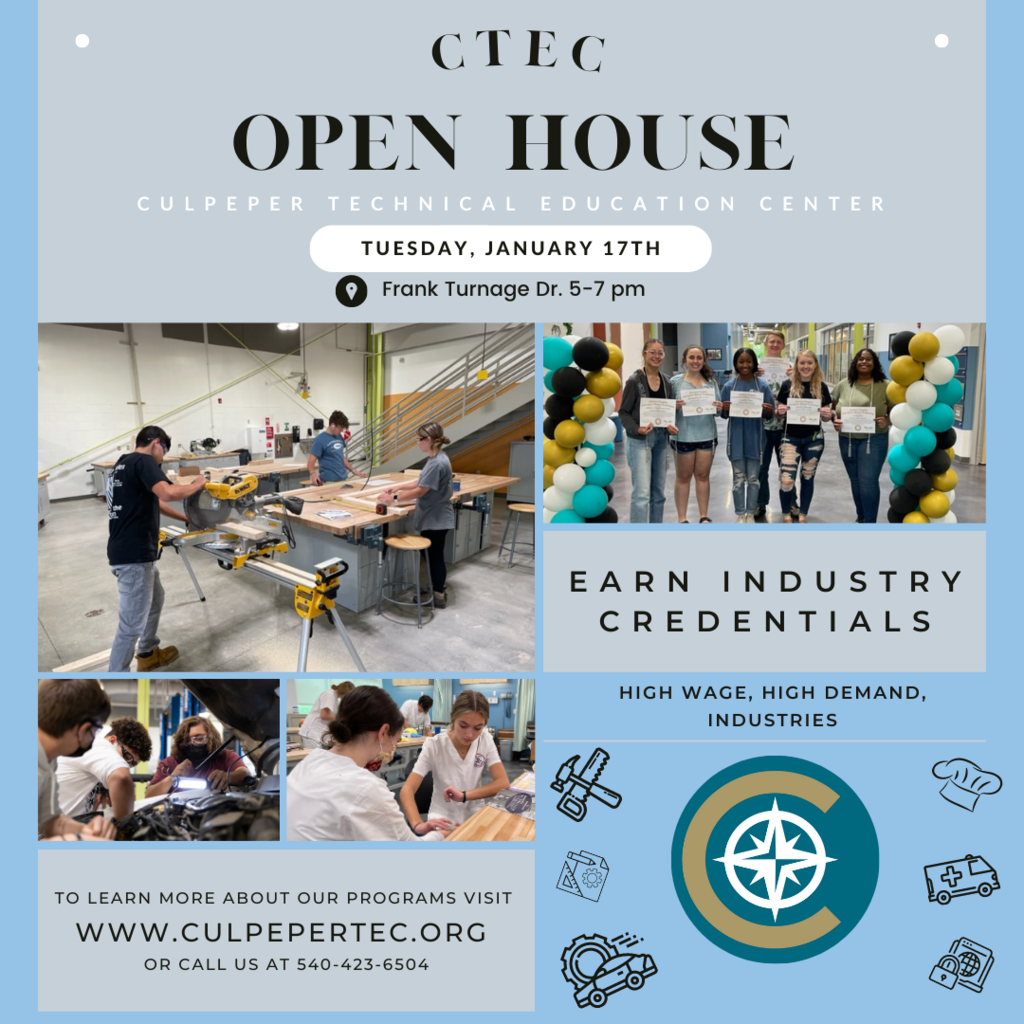 We can't wait to have our new CTEC students begin their journey with us tomorrow! Here is the CTEC transfer bus information for all students traveling to CTEC.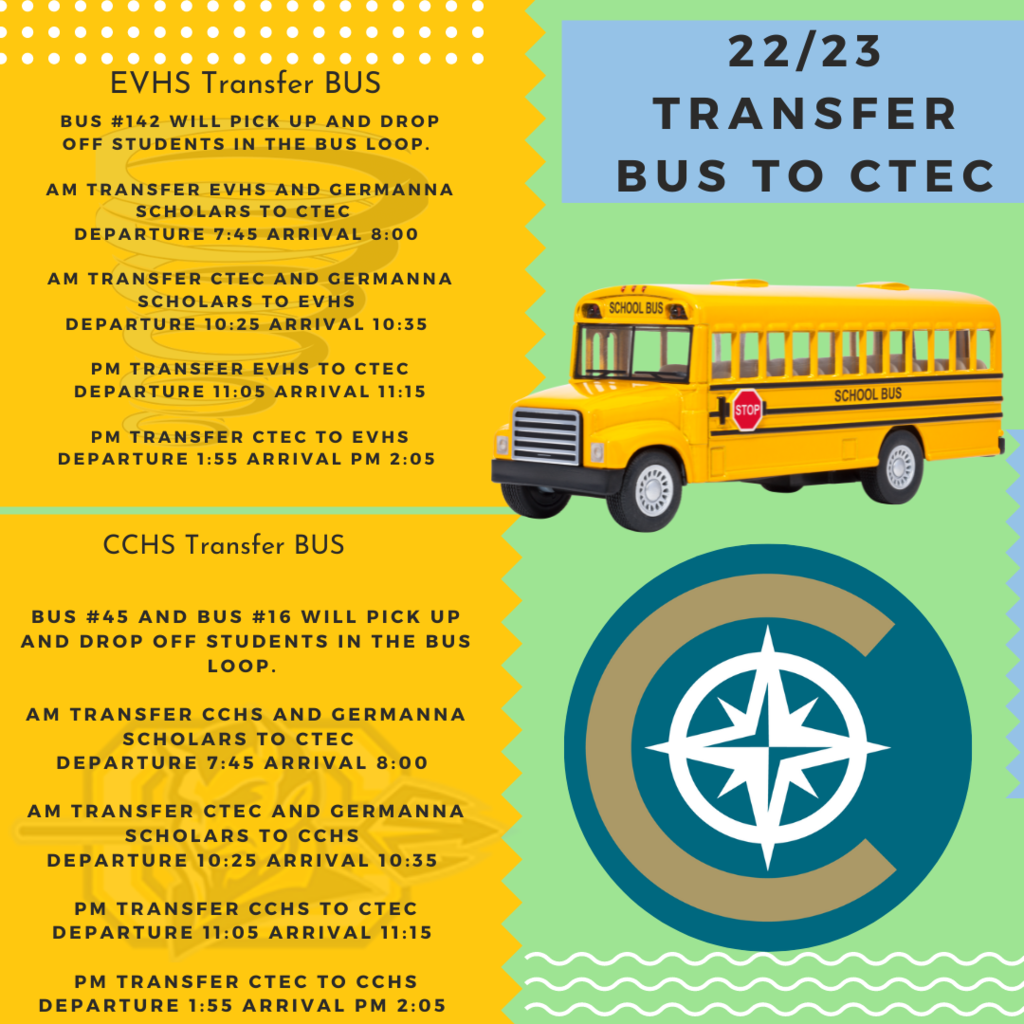 Due to the winter weather advisory, CCPS will open 2 hours late on Thursday, December 15, 2022. Twelve month employees report two hours late, essential personnel report on time. We will monitor weather and road conditions and revise our inclement weather status if necessary. Any status change will be made no later than 7 a.m.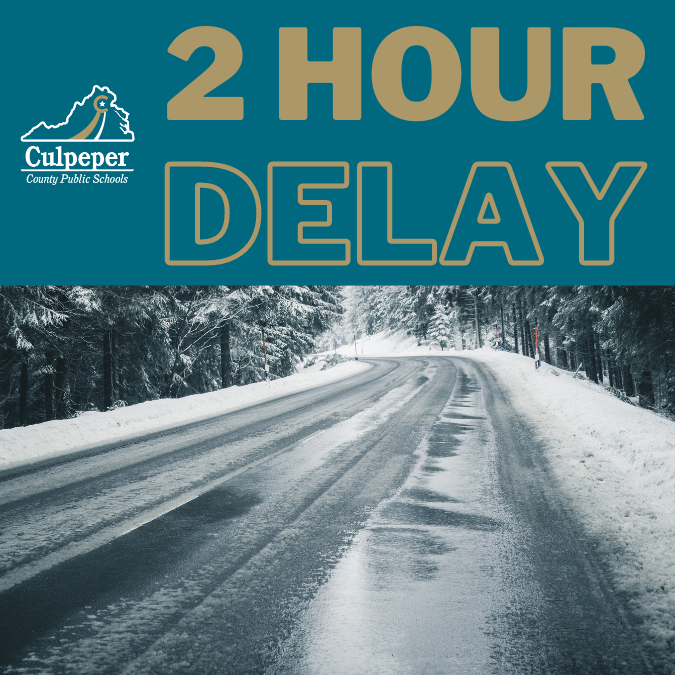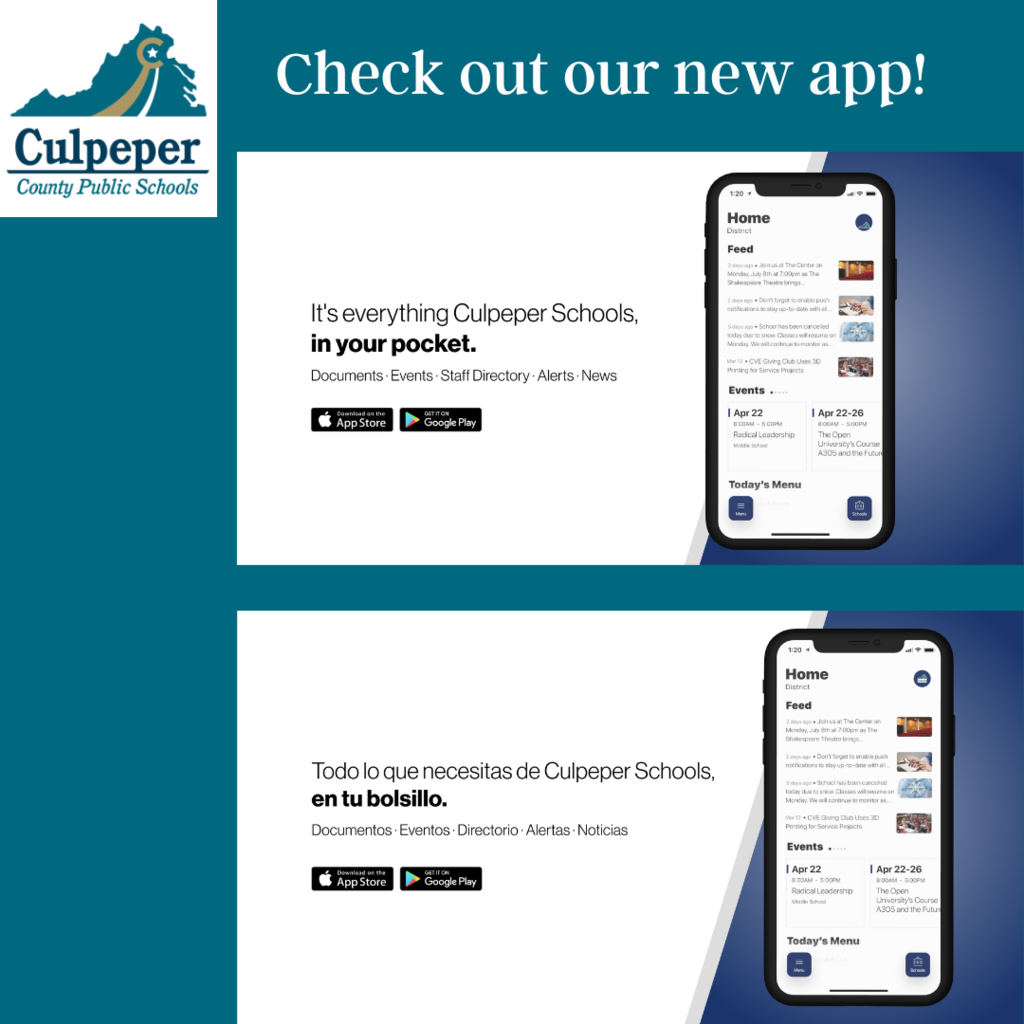 Congrats to CTEC Carpentry Instructor Mr Delano on receiving an Honorary American FFA Degree! Thank you for always leading by example! #culpepertec #siezeopportunity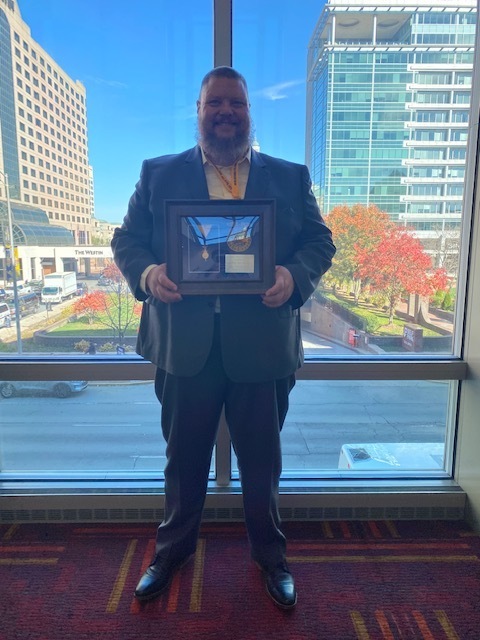 CTEC is excited to announce our first ever fundraiser to provide dual enrollment scholarships to students at CTEC; The Trailblazer Trot and Mashed Potato Mile! Pre-register for the event using our QR code. #seizeopportunity #culpepertec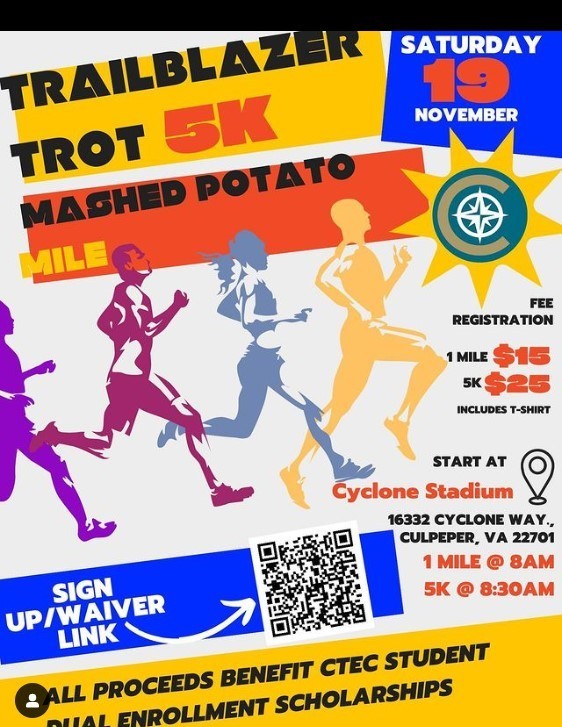 Thank you Lucas Brubaker, 22 CTEC Alum, and Windstar Technologies for delivering a lesson to our cybersecurity students today. We're so proud of your accomplishments Lucas! #seizeopportunity #culpepertec 1d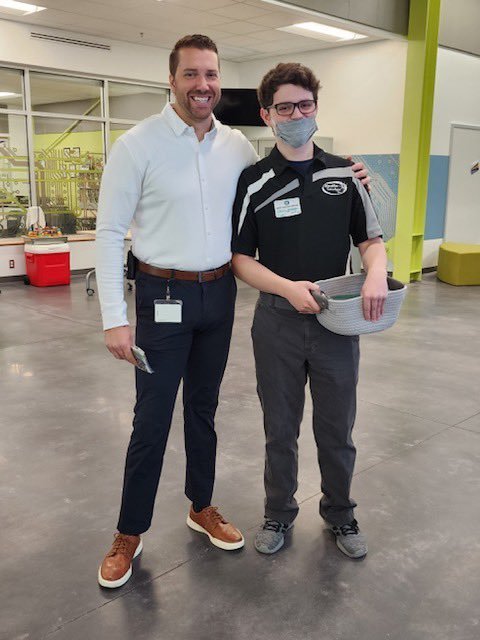 Culpeper County Public Schools is extremely grateful for our Family Resource Center and the amazing people who work there every day! Thank you @CCPS_FRC for ALL that you do for our school community! #ALLin4CCPS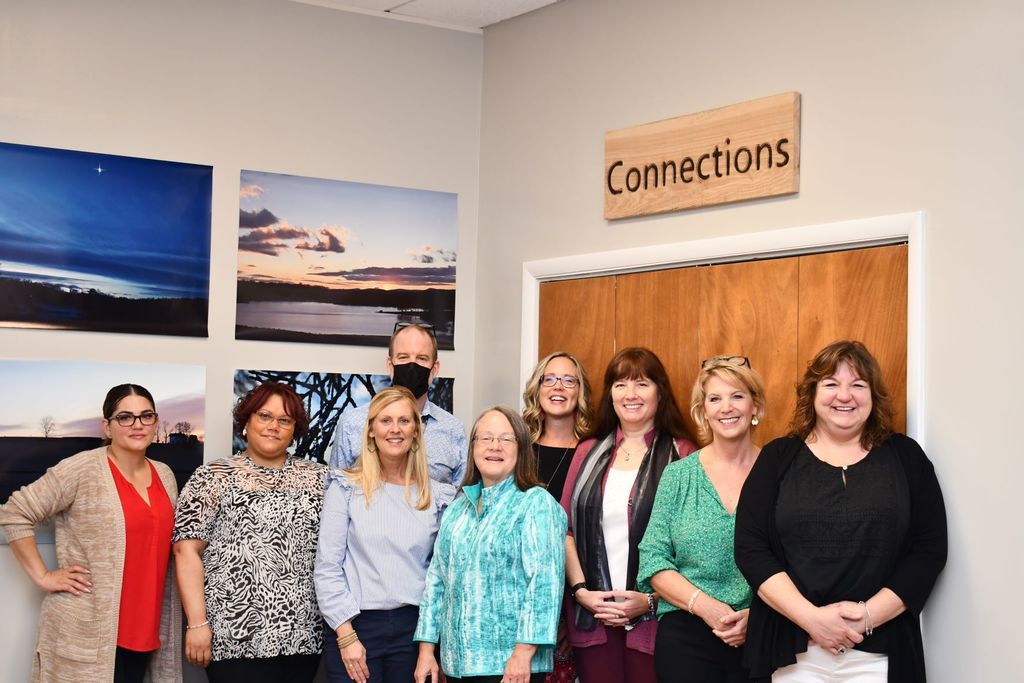 To honor Patriot Day and celebrate Constitution Day, CCPS will have a division-wide Red, White & Blue day on Friday, 9/16. Share your spirit using #CCPSspirit